This small air plant holder shaped like a pineapple is perfect for any pineapple lover! This cute gift can serve as air plant decor, or something to have on a desk, shelf or windowsill to bring you or a loved one joy whenever you need it. The bright color of the gold pineapple makes it a popular choice, while turquoise and white are also favorites.
This is specifically designed for air plants. The inside of the pineapple air plant holder is shaped like a cone so that the air plant can sit inside with support. Looking for something for a succulent? Check out our small succulent pineapple pot or our large pineapple succulent planter.
This holder is ideal for small air plants like the Tillandsia Ionantha. If you'd like a bigger pot, check out our large pineapple air plant.
Measures 2.4″ H x 2.25″ W
Top of the cone-shaped hole measures 1″ in diameter
Made with plant-based plastic that is industrially compostable
Contact us for a custom size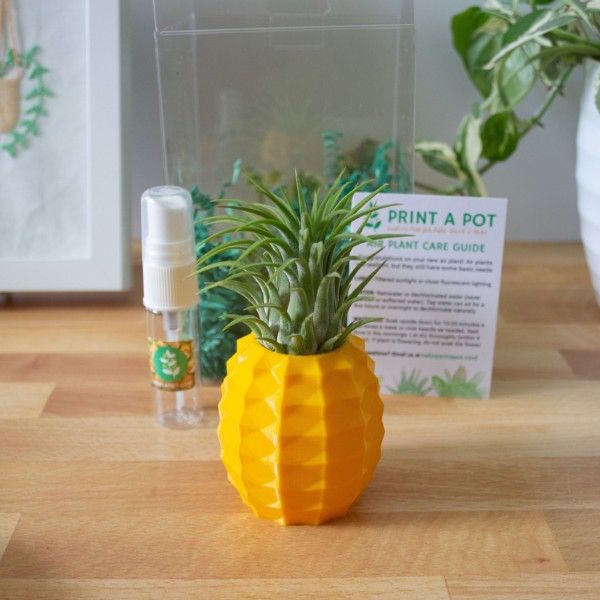 PINEAPPLE LOVER GIFT
This pineapple air plant holder makes a great gift for fans of the tropical pineapple! If you'd like a gift box version that includes the plant and mister for people within the continental US, find our Pineapple Gift Box here.
AIR PLANT CARE
Air plants are very easy plants to take care of. They need indirect sunlight or fluorescent lighting, as well as soaking/misting a few times a week during the daytime. Be sure to place the air plant in a well-ventilated area after soaking/misting so the air plant can dry out thoroughly.
** We can only ship live air plants to the continental US! We've now added an option for artificial air plants for shipping overseas and to Hawaii **
AS SEEN IN
You may have seen this product online at Cosmopolitan, BestProducts, and more.
DESIGN
Original pineapple design by yeg3d
We modified it by removing the pineapple top and inserting a cone-shaped hole for the air plant.
---
Other Pineapple Planters