Not everyone was blessed with a green thumb (honestly, most of us gardeners have to work for it!), but if you believe that you're doomed to a life of being a black thumb, don't fret! There are a number of plant substitutions that you can use for filling in pots and cute desk planters.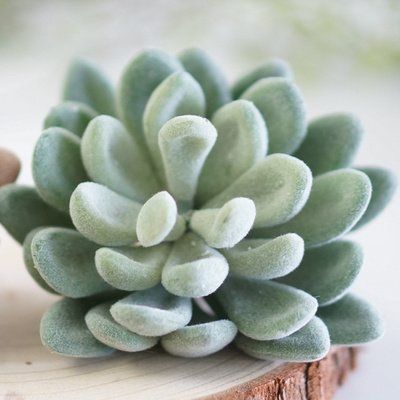 Go Faux
The most obvious plant replacements are artificial plants (of course!). There are a reason that these are so often used in offices, restaurants, and in staging model homes. They bring the look of living greenery without the maintenance, and while you are most likely familiar with the fake flowers you can pick up in any craft store, did you know that there are artificial succulents as well?
There are a wide variety of faux succulents available, ranging from "fuzzy" echeverias to spiky haworthias and even hanging succulents like string of pearls. If you love the look of succulents but keep killing them, then getting fake succulents seems like a no-brainer.
Functional and Pretty
Most of our planters can be used as pen holders. You can make it a bit more fun by filling your planter with pens that look like plants! There are pens that look like blades of grass, flowers, and even bamboo. There are many styles available online and it can sometimes be hard to choose!
There are also a few types of cactus pens, like the ones shown here. You can even find some with cactus "toppers".
There really is a great variety available of plant-themed writing utensils, but you can always just go with your regular pens. No pressure! You do you 🙂
DIY and Homemade
If you can crochet or knit, you can also turn yarn into a fluffy cactus or succulent! I've made 2 cacti with this free cactus crochet pattern and there are a number of succulent patterns online that you can use to create your own yarny succulent arrangement. Can't yarn over? There are a number of Etsy sellers that sell crocheted cacti and succulents, or you can message me (Mercy) to request something!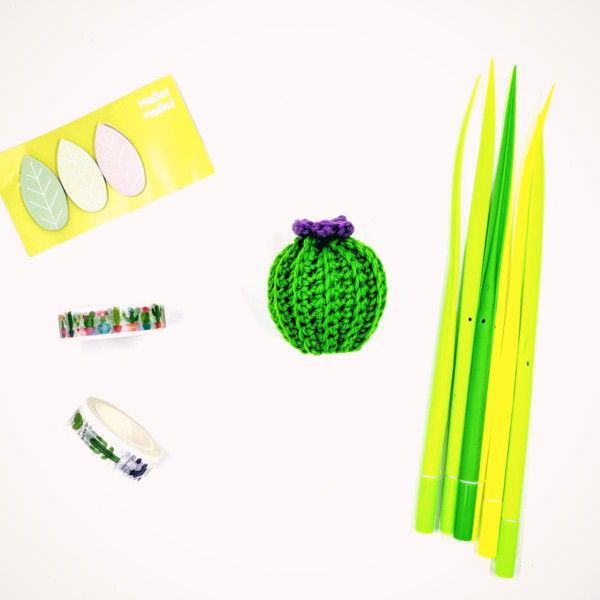 Do you prefer flowers? Happy Patty Crochet has gorgeous REALISTIC flower crochet patterns that she sells on her website, Etsy, Ravelry and Craftsy. They are so cute and so lifelike that it may be hard for people to realize they're fake flowers!
Or if you like Pokémon or Totoro, Vincent from Knot Bad has patterns for Oddish, Pikachu and Totoro as pot-stuffers! They are adorable and double as toys!
Or try an easy plant!
If you want to stop being a black thumb and want to start greening it up, you can start with an easy plant first! For people who need to keep their plants indoors during the winter because of snow and frost, they can try indoor houseplants that are easy to take care of. Spider plants and pothos are two that come to mind.
Another thing that is very easy to grow without much care is wheatgrass aka cat grass. All you have to do is soak the seeds for a few hours or overnight, plant in some soil, and they'll grow in just a few days. Cats love chewing on this grass! If you don't have a cat, you should cut the grass once it gets too long to keep it maintained. You can also juice the wheatgrass or add it to your smoothies for a healthy boost! Seriously!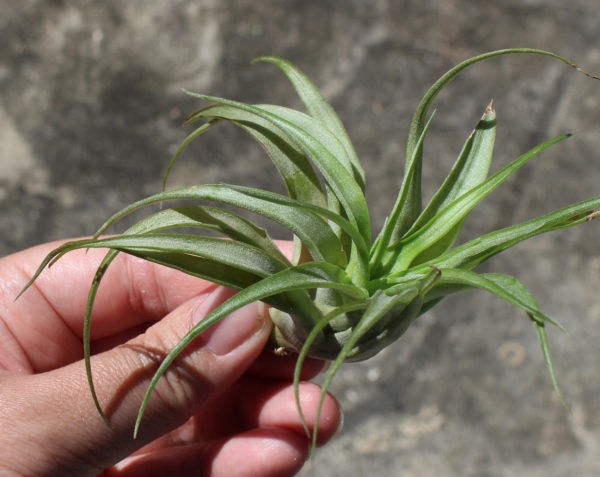 For people who live in tropical or warm climates, you can try air plants or cacti outside. Growing these plants outside will let them receive sunlight and water from the rain; if you don't get much rain where you live, you may have to water your air plants yourself rather than depend on nature to keep them alive. Cacti will thrive with little water!
It all depends on your growing area; your local garden center may have suggestions on the best plants for you to neglect outside 😉
Our next blog post is plant care tips for black thumbs. All plant lovers had to start somewhere, and many of us started as black thumbs! If you have any questions or your own plant substitute ideas, let us know in the comments!