With a few supplies and our latest kokedama-inspired planter, you can make a cool and chic indoor plant display that will look beautiful in any setting! This is such an easy do-it-yourself project that you can complete this in under 10 minutes.
First, decide what size kokedama you want. The small kokedama planter is great for air plants or small succulents, and the medium kokedama planter is ideal for bonsai trees, medium-sized orchids, large succulents (1 gallon size), and small houseplants. Order your planter in the size and color you like, and you should receive your planter within 7 business days.
Next, decide what kind of kokedama you want to make! Do you want to make a green moss ball with a succulent or houseplant? Or a hanging planter for an orchid? Or just a simple (yet beautiful) air plant holder?
Modern Kokedama
For a modern twist on the traditional "moss ball" kokedama, these are the supplies you'll need:
Your plant (bonsai, succulent, houseplant, orchid, etc.)
Potting medium appropriate for your plant
Hanging string (optional)
To start, if you want your kokedama to hang, figure out how you want it to hang and how you want your plant to sit inside when it's hanging. The planter will be much heavier after your plant is inside, so be sure to use durable string and make secure knots. Attaching your strings now (and testing how it hangs) will make hanging the planter easier later on.

Cut or tear sections of your sheet moss and use it to line the interior of the planter with the green side out. Get your plant ready; if the root ball is much smaller than the inside of the planter, add appropriate potting medium for your plant. What does that mean? Use bonsai soil for bonsai trees, a cactus/fast-draining soil for succulents, potting soil for houseplants, or sphagnum moss for orchids. Insert your plant's root ball inside the kokedama planter and add more potting medium or sheet moss as needed. Then you're done!
Open Air Plant Terrarium
The more air flow an air plant can get, the better! The holes in this planter allow for great air flow, making this a perfect air plant holder.
You will need:
An air plant that will fit inside or on top of the planter
Kokedama Planter in the appropriate size for your plant
Reindeer moss (optional)
Hanging string (optional)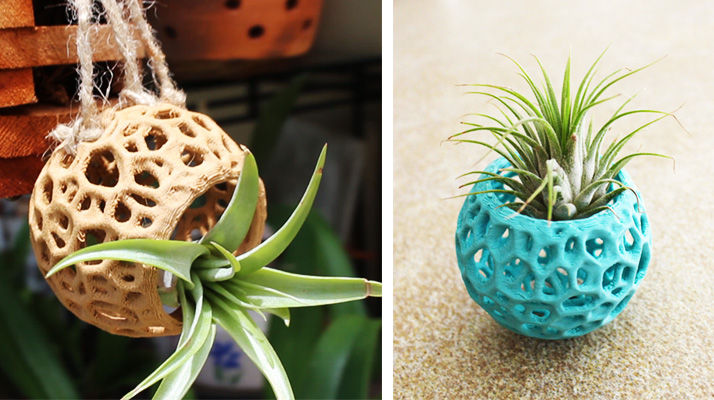 Whether you want to have a hanging air plant or a tabletop air plant, this kokedama planter can do both. If you want to hang it, attach your string or jute. To add another pop of color, you can add reindeer moss, which comes in a variety of colors such as green, brown, red, blue and even purple. Then add your air plant. This is a low maintenance display for air plants that even children can take care of!
It's fun to have multiple kokedamas of different sizes. Displaying a medium kokedama and a small one in the same space can offer a ton of visual interest.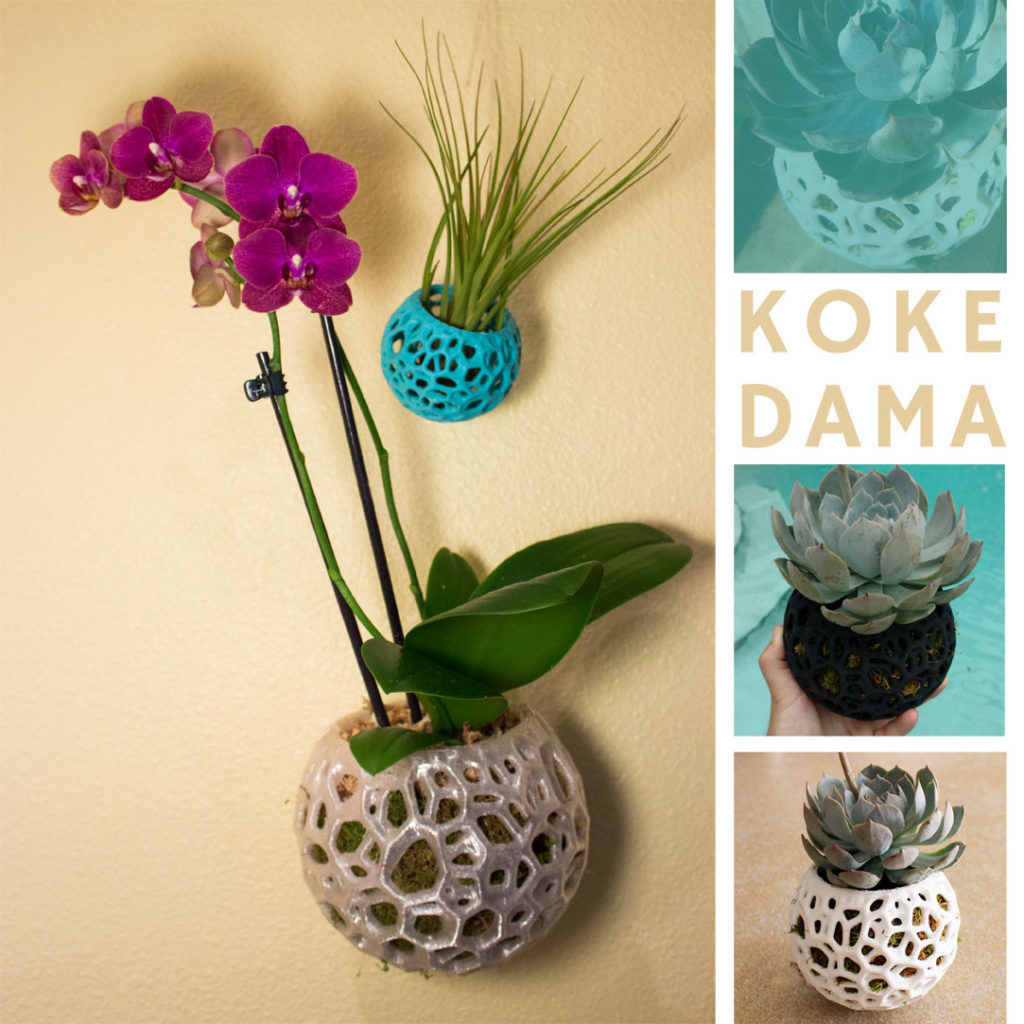 We'd love to see what you do with your kokedama planters! Tag us on social media with @printapot!